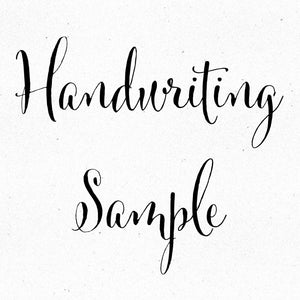 Handwriting Sample Conversion
Regular price $ 10.00 Sale
This listing is for your handwriting sample to be converted and engraved onto one of our Ginger Squared pieces.
(Note: If your piece is already in the Handwriting section of our shop, you do not need to purchase this as it is already added in. This is for stamped pieces that have a special handwritten request.)
This is per picture sent, so if multiple are needed, please change your quantity to however many pictures you are sending
This listing is non-refundable.
Please send as clear of a picture as possible...scanned and black and white is preferred, but a photo on a plain white background is also something we can work with!
You can send your picture via email with your order number in the title so the two can be linked together easily. (info@gingersquared.com)